This Zazzler has a very whimsical take on the "classic" Goth theme. Instead of the raw grunge and horror that pervades the recent Gothic subculture. Here we see a return to the romantic side of Goth. Fun and whimsical, with a side of dark humor.
Gorey would be proud! So please, stop by and take a look, we promise you won't regret it!
What is your store name and why did you choose it?
I have a shop on Etsy with the same name. I chose it because, at the time, it fit
both the 'rustic' art that I was creating, as well as the 'goth' inspired art I was
just beginning to create.
Where does your inspiration come from?
Anything from the lyrics in a song to an event in everyday life...whatever 'inspires'
me at the moment...often depending on the mood I'm in.
When I first started painting "rustic goth" pieces...
it was therapy in dealing with the loss of my husband
and the 'dark places' I had gone to in my own mind.
Now that I have begun to 'cope'...my pieces range from the
very melancholy and sad to slightly hopeful and whimsical, again,
depending on my own 'state of mind' at the moment.
What mediums do you work with the most and why
?
I can't work with oils anymore, it seems I am 'allergic'. So, I've switched
to acrylic paints.
I've also begun to create a lot of my newest creations in Photoshop.
Has art always been a focus in you life?
YES. I am self-taught and I love art...all kinds of art!
I've been selling my pieces since the early 80s...so I consider myself
a 'professional artist'...and it is a major part of my life.
What would be the best way to describe you art to someone who has never seen it before?
At the moment, I consider it "whimsical melancholy".
Where would you like to see your art and your store at in the next five years?
Because I make my living creating my art, I have several online sites that I
sell my creations.
I am currently 'studying' what I need to do to license my art so that, hopefully,
I don't have to work quite as hard as I do in the coming years.
I am working on developing specific series for specific venues...all falling under
the 'Rustic Goth' brand.
If you had to pick one piece and throw all the rest away, what would it be and why?
For Zazzle, it would probably be 'Twilight'...my barren trees against the purples
of twilight. This piece signifies 'coming out of darkness'.
And, finally, if you could recommend someone else to take this quiz, who would it be and why?
amelancholydwelling's Store at Zazzle
...because I love her stuff.
some products from this awesome store: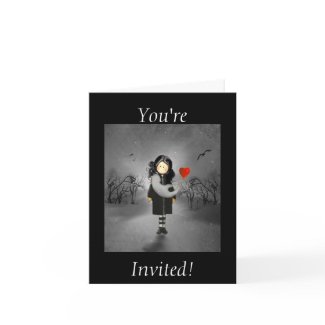 You're, Invited!
by
RusticGoth
Shop for another
card
online at zazzle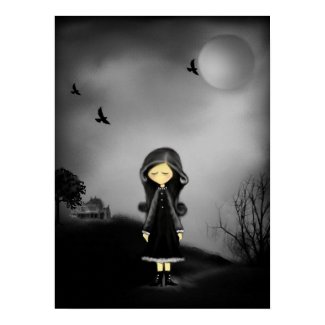 Home Haunted Home
by
RusticGoth
Browse other
Gothic Posters
link to store
rusticgoth's Store at Zazzle