From time to time I like to purchase new products as they come out. As a "quality control" measure. I won't keep a product in my shop if I'm not happy with the quality of the samples I order. Over the years I have purchased everything for T-shirts to key chains. Some have been amazing, and others not so much.
So I was very pleasantly surprised when my new locket and premium key chain arrived via UPS today.
Below is the best photo I could get of them. I apologize for the fuzziness on the locket but it has a beautiful mirror finish and I didn't dare use a flash. LOL
The photo is my husband and I, obviously on our wedding day. And, no I'm not telling how many years ago that was =P The photos are actually better than the original. The colors are brighter and sharper than my faded 4x6 is. The locket is quite heavy and the front is loose. It simply slides into place due to gravity when you wear it. Personally I like this style better than the traditional ones. No hinges to weaken and break over the years. My only concern is the jump ring that both pieces hang on. It is large enough for both pieces, but it isn't very sturdy. I will be switching mine to a spring type ring before I wear it just in case. The chain is a comfortable , average length and it comes in a cute little velvet bag with the Zazzle logo branded on the front. All in all I'd give it 4 out of 5 skulls (have to keep the Goth theme don't cha know).
I have to admit I was one of the loudest skeptics when Zazzle introduced the premium key chains. How could a key chain be worth around $20? (Depending on which keychain you choose and which Zazzle shopkeeper you buy from. Every shop is different.) But I will be the first to admit when I am wrong. And this time I am happy to admit that I was wrong! LOL These keychains are worth every bit of the asking price. They are made by the same company that makes the necklaces and lockets. Here's the run down from the Zazzle site,
which you can find here
;
Premium keychain:

Premium Round - 1.44" in diameter
Premium Large Round - 2.13" in diameter

Waterproof and UV resistant
Zinc with white bronze plating
Comes with keyring
Vibrant, full-color printing
Lead and nickel free
It is just as heavy as the locket and as beautifully printed. It also came in one of the little velvet bags. If I was giving these as gifts the bags would be perfect wrapping. Although, if your
really
wanted to make it special you could add one of our awesome gift boxes like this one ;D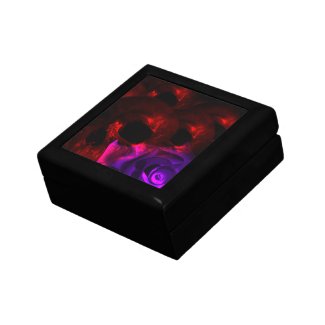 Roses and Skulls Gothic Fantasy Gift Box
by
gothictoggs
Either way I am a very happy customer and a very happy shopkeeper. I will continue to have the necklaces and the premium key chains in my shops and I look forward to designing more quality products for all you Gothlings out there.
Until next time, when I'll have the dish on GT at the 2012 MTV Movie Awards this weekend, sleep tight and "unpleasant dreams."
Tabitha
CEO/Designer
Gothic Toggs