Here is the latest quiz for our fellow Zazzler, Inspired Ambitions. We invite you all to stop by and browse the original and unique designs offered here and at all of her wonderful galleries!
> What is your store name and why did you choose it?
Answer: Inspired Ambitions - because I felt the name suited my attempt to open my first store.
> Where does your inspiration come from?
Answer: Everyday occurrences and living in a beautiful countryside area.
> What mediums do you work with the most and why?
Answer: I mostly work with Photography, I have been an avid photographer for many years and with the ability to see your work immediately my change from a 35mm to a digital has given me the ability to do more. I also work with fractals because I am always amazed by the outcome of the work and it is fun.
> Has art always been a focus in you life?
Answer: Yes
> What would be the best way to describe you art to someone who has never seen it before?
Answer: Beautiful images of nature and animals and if you don't know what a fractal is you must see my work.
> Where would you like to see your art and your store at in the next five years?
Answer: I have a few designs that I would love to see become popular
This one is perfect for the times in the United States - Republicans and Democrats Need to Lean on Each Other
Government Unite Baby Doll Shirt
by
kahmier
Make a
custom tshirt
on zazzle.com
This one for kids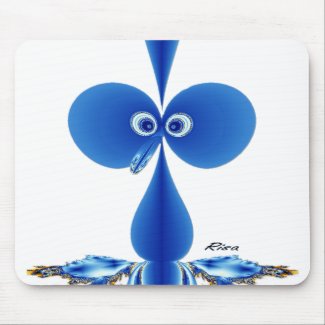 Booby Bird Blue
by
boobybird
Make your own
mousemat
at zazzle.com
..... and it would be a dream come true if my store became known not only on Zazzle but everywhere.
> If you had to pick one piece and throw all the rest away, what would it be and why?
Answer: I wouldn't, I couldn't do that .... I am the type of person who thinks it is a sin to rip the cover from a book. Someone spent perhaps an entire lifetime putting it together and destroying it like that is insulting their attempts to share their inner most sanctum.
> And, finally, if you could recommend someone else to take this quiz, who would it be and why?
beverlytazangel's Store at Zazzle
because I love her work.
kahmier's Store at Zazzle
Stayed tuned and check back for the next installment. It might just be YOU!!